WHY YOU NEED BUTTER IN YOUR LIFE
Butter is a popular dairy product made from cow's milk. Composed of milk fat that has been separated from other milk components, it has a rich flavor and is widely used as a spread, as well as for cooking and baking.
However, butter has been treated as a forbidden food for a while now. While some folks know the truth about why butter is amazing for our health, there is still quite a bit of misinformation out there. And since it is actually one of the most important things that we should actually be eating and just to set the record straight on why it is so amazing, we want to go ahead and talk about it.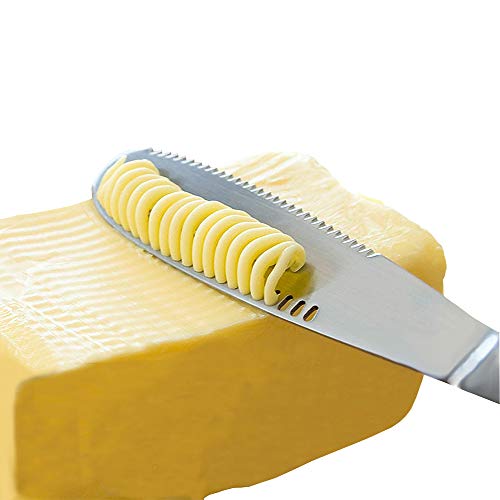 What's so great about butter?
Some of the nutrients that butter contains are fat-soluble vitamins such as A, D, E and K. It also contains conjugated linoleic acid which is an anti-inflammatory that protects against free radical activity and cancer.
Butter also contains some really important fatty acids that are useful for brain health and development in children. It's also important for our immune system and skin health. 
You've probably heard that butter is high in cholesterol and it actually turns out that that's a good thing– we actually need some cholesterol in our diet. It's actually essential for nervous system development and intestinal health.
How does butter help us?
Those very important fat soluble vitamins found in butter do actually help protect against heart disease. The vitamin K actually helps to prevent arthritis. Vitamins A, D and K help prevent osteoporosis by promoting the proper absorption of calcium and phosphorus so it helps with healthy bones and teeth. It is also a good source of Iodine so it's very helpful for good thyroid health.
Lots of the nutrients found in butter are very beneficial for growing children. It has been shown that butter is very important in helping to either heal or prevent learning disabilities. The saturated fats in butter are important for lung development. It can actually protect against asthma.

Butter and Weight loss
If you were to go up to your friends, family or coworkers and ask them if butter actually helps you lose weight, they're going to say, "Absolutely not; it helps you GAIN weight". We will show you some data that is quite interesting.
Butter contains butyric acid that has the capacity to improve and reduce insulin resistance, and insulin resistance is what's really behind stubborn weight! So anything that can lower or improve it will help you lose weight. 
Of course if you're consuming butter with an unhealthy diet, you're not going to lose any weight simply because it means you're also going to worsen it by all the carbs you're consuming. You want to consume the ketogenic diet, so the more you don't have to be afraid to use butter.
Bottom-line
Despite its longstanding reputation as an unhealthy ingredient, most research shows that butter can be included in moderation as part of a balanced diet and may even be associated with several health benefits.
It's best to consume it alongside a mix of heart-healthy fats like olive oil, avocado, nuts, seeds, and fatty fish.
At the end of the day, butter is healthy in moderation. Enjoying butter in moderation means a healthier lifestyle with lower risk to any diseases!